Description
Evergush V260
FEATURES
Auto boost water pressure when water is consumed; Stop running automatically when water is not consumed.
Pre-pressure one-piece forming diaphragm pressure tank with good appearance and corrosive resistant.
Install overload protector in motor's circuit and thermal shutoff device on pump front cover to protect motor from burnout due to abnormal conditions.
May select stainless steel pump casing model(V260AS,V460AS) to avoid being jammed shaft during long term idle and ensure clean water provided.
(Accessory)Water-proof plastic cover is available upon customer's request. To extend life-span of V-series pump if the machine is installed outdoors.
---
Applications
Water supply and pressure boosting in residential and commercial applications.
Water pressure boosting for barber shop, restaurant,sprinkler systems, washing machine, residence, villa,house,..etc.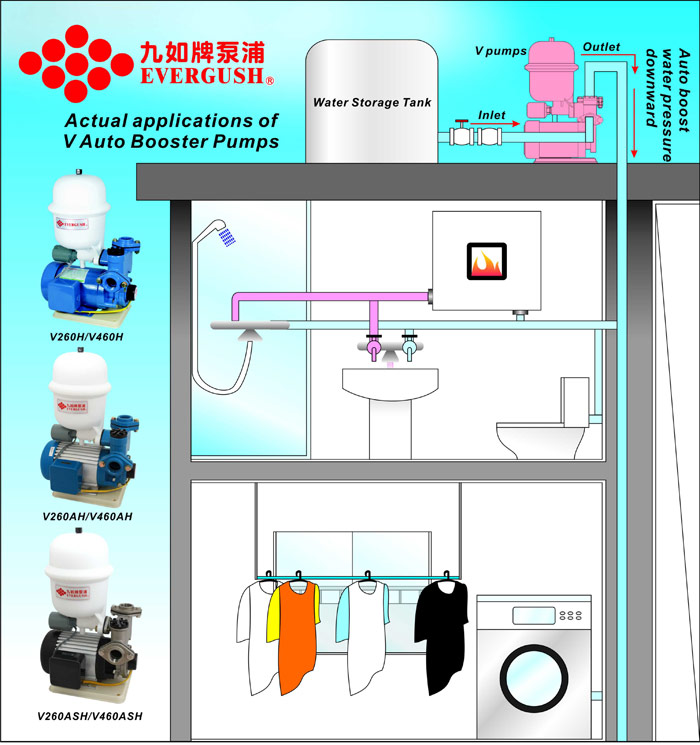 ---
Operating Conditions
Ambient temperature: Max. 40℃
Liquid temperature: 2~50℃
Suction Head: Max. 6M
Before using the pump, be sure the inlet pressure setting is lower than on setting of pressure switch.
For clean liquids, without impurity or chemical matters.
---
Specifications
Power: 1/4 HP~1HP (0.18KW~0.75KW)
Motor: IP54 / Insulation B
Only single phase 1Phase 110V/220V (60Hz)
1Phase 220V~240V (50Hz)
Built in thermal overload protector
Max. Head: 45M
Max. Capacity: 70LPM
Pressure set : 1.0~ 3.2 bar. (Depending on model you choose)
V460AH(1/2HP) and V760H(1HP) use dual-voltage (110 / 220V) design for 60Hz model, wiring connection way is as following.